Experience love at first play Pickleball!

A sport for most ages (8-90) thats easy to play, active, inexpensive & promotes a healthy lifestyle.
Beginner Lessons
There currently is a wait list for Indoor Beginner lessons at the Legion in Tecumseh. To be added to the email for updates, email tpavicepresident2020@gmail.com State if you are available during the daytime or evenings.
What is Pickleball and what do you need to get started?
Pickleball is the fastest growing sport in the world – true! It's the most fun as well. It is a combination of tennis, badminton and table tennis. The game is played on a badminton size court with a wiffle ball, about the size of a tennis ball.
Affordable equipment.
Besides your gym attire you need a paddle and a good pair of court shoes. If the sport is being played in your area beginner paddles and balls are usually supplied by your local club or recreation centre. Once you learn the game you can buy your own paddle. Prices range from $30. to $200.+
What sets pickleball apart from other sports?
Rapid learning curve. The game was originally developed so all age groups within a family could play together. With this in mind the rules were kept simple and safe. It can also be quite a challenging, fast-paced and competitive game when people become more experienced at playing.
Why has it grown so fast?
It started with the largest demographic, the baby boomers. But it's not just for the baby boomers anymore...working people, teens, and youth are also playing this wonderful sport of Pickleball. Membership within Pickleball Canada has grown over 300% since 2016,
Speedy play and fun exercise
Two hour sessions are the average time to play. It is a great sport for all-round fitness and exercises all the major muscle groups, provides a cardio workout and improves dexterity, mobility, agility, and balance.
Basic Pickleball Rules click here
# Pickleball Lessons With Terry Morais (IPTPA level 11 certified pickleball teaching professional) For personal, individual or groups lessons to enhance your pickleball skills, email Terry directly for fee, times etc. tmorais0317@gmail.com.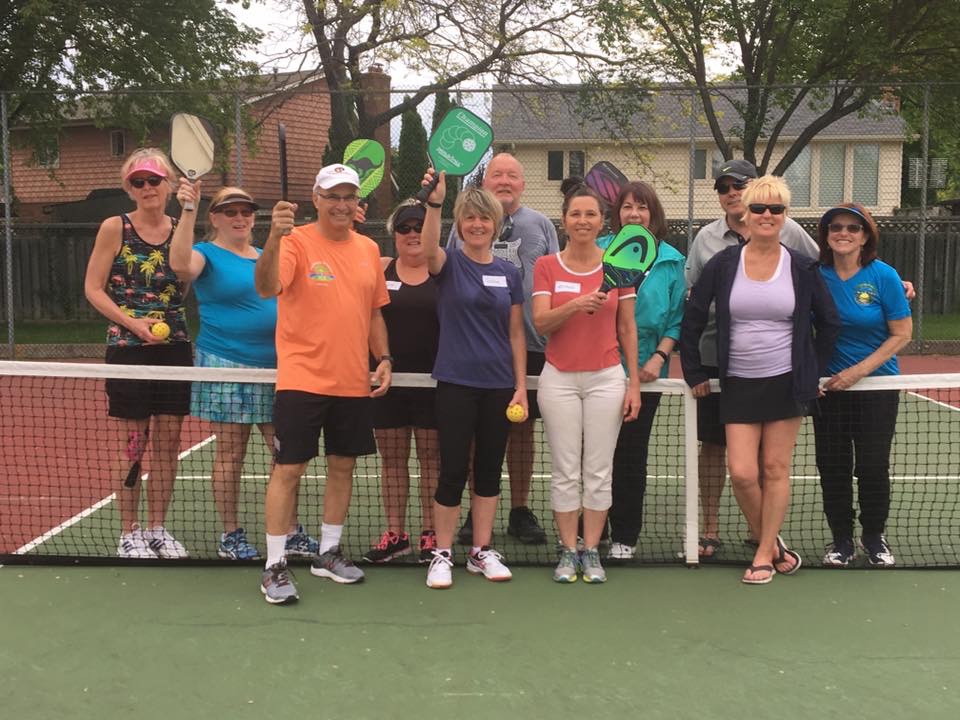 2019 Photo
LOCAL EQUIPMENT SUPPLIERS
Grip on Golf & Pickleball Zone Fusion, Engage, Mircon, Dart, Encore and much more
**